hes
The annual state of the desk photo:
So I'm a little late with the desk cleaning. It's a bit better this year, although Eeyore's moved locations, Paddington needed a total - delinting.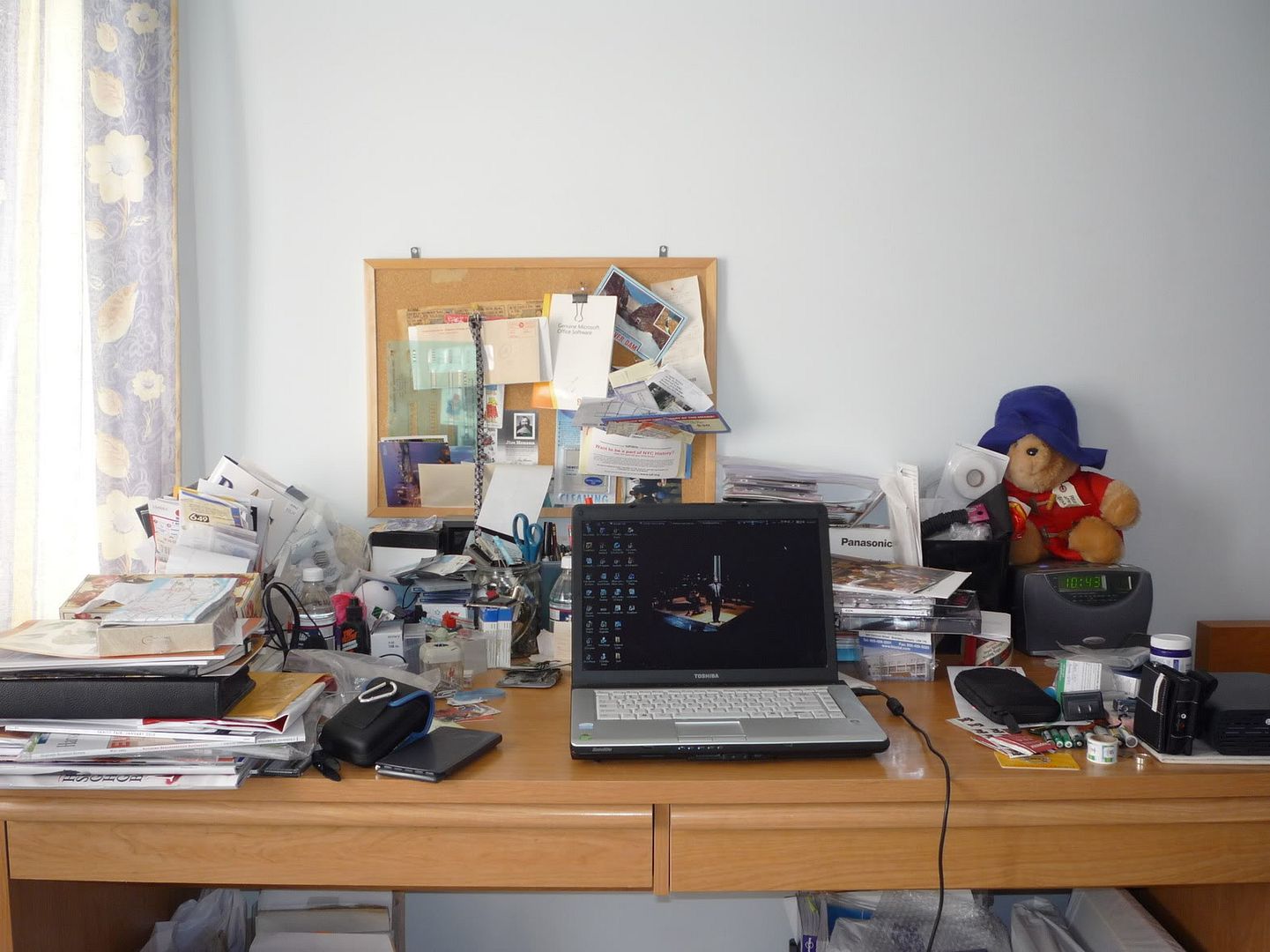 A relative explanation of the lesser degrees of chaos that can (or can't be seen) in this photo:
1T WD HDD on the far right corner, plus a 500G WD Passport in the black case. There's also the HiMD recorder in the same vicinity. Plus two teabags (orange pekoe), and a strip of US liberty bell/forever stamps. And a heap of AA/AAA batteries
Right to the right-behind corner of the laptop screen is a stack of notepaper plus the MGM film musicals: West Side Story, Fiddler on the Roof and Guys and Dolls. On top of that box is three albums: Superband's Northbound train, and Glee volumes 1 and 2 plus the top most is the Shaw Festival playbill for Sunday in the Park with George.
To the left of the laptop is the calculator (tax-season!), the simple Lumix camera and more batteries.
On tabletop leftmost is the stash of magazines that need to be sorted out: containing five possible publications: Vogue, Vanity Fair (January 2010 had Meryl Streep cover), Rolling Stone (an older Madonna one), Cooks Illustrated (Soups and Stews), Harvard Business Review (the last one of the subscription: December 2009), or else, Sondheim Review (the latest one with Angela Lansbury/A Little Night Music). Also: a case of DVDs.
The corkboard has more theatre ticket stubs, and I think, a tracing template that I hadn't put up last time.